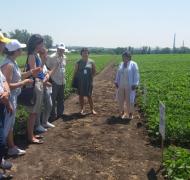 Strengthening human health and the safety of agri-food products, the intrinsic link between the factors that ensure them, are imperative objectives for research, production, education. Vulnerability to the threats posed by climate change, pollution, can be overcome through collective and harmonious efforts. The objectives of the DevRAM Part I project "Increasing the competitiveness of the agri-food sector by integrating it into domestic and global value chains, especially the soybean sector" funded by the European Union and implemented between April 2018 and August 2021 by the Austrian Agency were also oriented in this direction. for Development, Donau Soja Association from Austria, Pro Didactica Educational Center in collaboration with the Ministry of Agriculture, Regional Development and Environment and the Ministry of Education, Culture and Research.
Within the project through public-private partnerships, the most efficient soybean varieties created within IGFPP, were implemented for testing under production conditions. Also, the researchers of the institute Dr. MALII Aliona, Dr. Alexandru BUDAC made working visits to scientific centers abroad (Austria, Serbia, Romania, Bulgaria) for the exchange of experience, material transfer and good practices.
Within this project, the IGFPP research team that conducts genetic and ameliorating research on legume crops for grains has become the beneficiary of equipment (batting) for mechanization of works with ameliorating material.